Mercersburg Area Community Band Collection
In 1883, a former Civil War soldier and dentist, Dr. David Grosh, started a band in Mercersburg, PA, which he named the Eagle Cornet Band. It performed at church picnics, parades, and political rallies in the town square until the death of its last director in 1943.
After World War II, in 1946, the citizens of Mercersburg formed a new band called the American Legion Band. Soldiers home from the war were glad for the chance to play in a band again, but band members did not have to belong to the American Legion.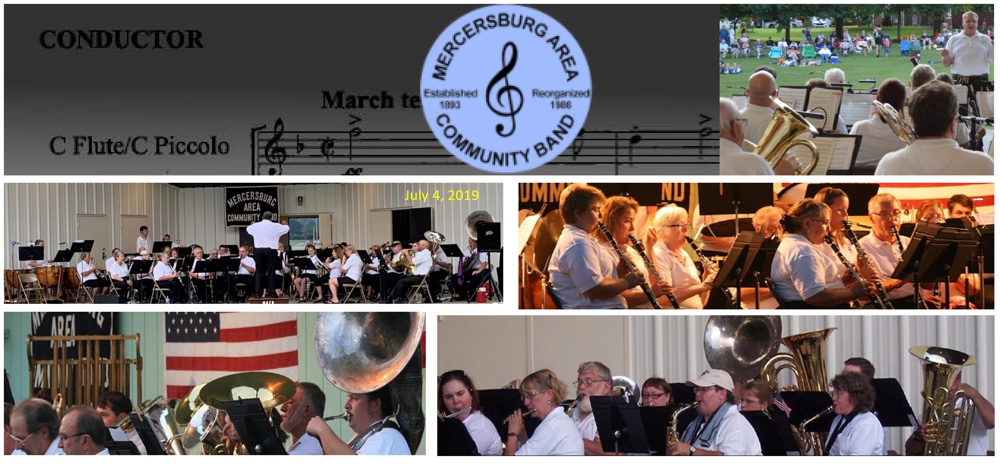 Later named the Mercersburg American Legion Community Band, the band became a particularly important part of life in Mercersburg in the 1950's and early 1960's. It was not unusual in those days for the band to perform 35 to 40 times a year. It played for picnics, festivals, and parades not only in Mercersburg but in surrounding communities, where it won many prizes for excellence in marching and musicianship.
In 1972, the band went dormant for 14 years as its music gathered dust in the old Band Hall located behind the Borough Hall. In 1986, the band was reformed under the name of the Mercersburg Area Community Band. The band rehearses once a week during the summer months and plays 5 or 6 concerts in Mercersburg and surrounding communities. https://mercersburgband.org/
Irondequoit Concert Band Collection
The Eastridge Kiwanis Club of Irondequoit helped form the Irondequoit Concert Band; its first rehearsal was April 23, 1974. Under the direction of Mr. Al Piato, the 37 musicians in attendance started the tradition of bringing concert band music to the citizens of the Town of Irondequoit. By its premiere concert on July 4 the band had 55 members. The Irondequoit Concert Band performs 12-15 free concerts every year, September through July. The 65 volunteer musicians play in this suburb of Rochester, NY.

Since 1974 the band has purchased many pieces of music. It received many vintage works from the William Popovych family in Rochester and purchased a large collection from a defunct band in Bay City, Michigan. Most of the music donated to the BandMusicPDF Library effort came from those two collections. The late Judy Johnson, librarian of the band for more than 35 years, organized and maintained the music, and was a vigilant protector of the band's library. Her efforts in organizing and cataloging the music allowed for her successors to gather and present the pre-1922 music for donation.
Dana M. Bailey Collection
Dana M. Bailey, born in the late 1800s in Newton Falls, Ohio, studied music at Dana School of Music. As a child prodigy, he played cornet in church. He gave cornet lessons and was involved in vaudeville both musically and theatrically.
As a young man, Dana became the band director for Berea College in Kentucky, where he attended college. Later Bailey met his wife at Chautauqua Institution during the time he played in the Chautauqua symphony. It was at this time that he purchased an engraved silver cornet with earnings from the symphony. The same instrument was played by later generations; first by his great granddaughter and later his granddaughter, who subsequently performed with North Royalton Community Band.
Dana left music to earn more income for his family. He had a furniture business, was Mayor of Newton Falls and later an office manager. His appreciation for great band music never changed. He heard and in later years spoke highly of John Phillip Sousa.
"Life is much richer because of people like my grandfather." — D. Papay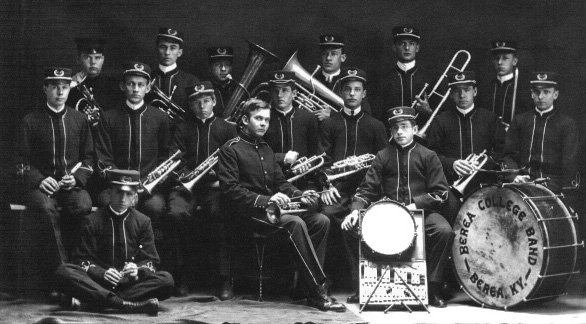 Mountain District Band Collection
Donated by the Lutz family, Prattsville, New York.
The following account has been abstracted from The Catskill Recorder, Friday, January 27, 1933:
"The Mountain District Band, composed of musicians who are residents of the Towns of Ashland, Prattsville, Grand Gorge, Conesville, Lexington and Windham, met and organized Jan. 13 in Community Hall, at Ashland. After much discussion, and many suggestions, the name Mountain District Band, was decided upon as being appropriate and inclusive.
This unique organization is a new departure in local musical circles and richly deserves the loyal support of those who have had experience in band work or who desire to learn to play a band instrument. Membership fees are very reasonable and are added, with any donations or receipts, to a fund for the purchase of necessary musical supplies."
Cooley-Selland Collection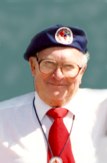 Vern Cooley (L) and Jim Selland (R) were long time friends, musicians and collectors of music.
Jim was a music educator working with junior and senior high bands. He also directed municipal bands, fronted big bands and played for several years with a traveling circus in the summer. He was "first call" when groups needed a trumpet player.
Vern, a carpenter and cabinet maker, played tuba at every opportunity in everything from concert to big band, dixie and polka groups. His son Floyd was for many years principal tuba with the San Francisco Symphony.
The Cooley-Selland public domain concert band works are but a small part of their life-long collections.
Ed Ballenger Collection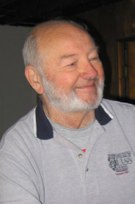 Ed Ballenger, Jeffersonville, Indiana, had an illustrious career as a music educator, touching the lives of many students with his energy and passion for band music. He was an outstanding performer on euphonium and, as an enthusiast for circus band music, was a long time member of Windjammers Unlimited. Ed passed away shortly after adding his collection to BandMusic PDF Library.
Ballenger's world class collection of band sheet music centers on circus music, including galops, marches, waltzes, trombone smears, rags and many more pieces suitable for circus performance. The musical focus goes beyond one-dimension and includes patriotic and military marches, overtures, solos and a full range of music by some of the best composers of the 19th and early 20th centuries.
The Vaclav Klimek Collection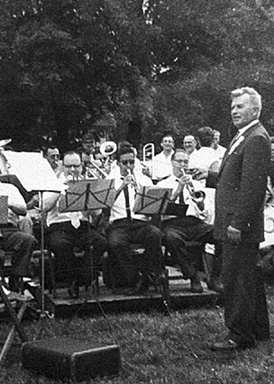 The daughter of Vaclav Klimek offered to present North Royalton Community Band with a music collection that had belonged to her father. Vaclav Klimek had been a band director in the early 1900s in Pennsylvania. The collection came in 8 or 9 boxes and had been stored by the family for many years after Mr. Klimek passed away. After moving several times, the family decided to try to find a home for all the music, preferably with a band that might put it to good use.
After picking up the music, we discovered that the publication dates ranged from the 1880s to early 1930s and included over 270 march size pieces, from "Alabamy Bound" to "Zacatecas"; and about 100 full concert and octavo size works.
The library was found to be in quite good condition, especially considering the age. It had been well cared for and kept in boxes. We began by sorting the music and creating an Excel list of all the pieces. This took most of the early winter, with the project team meeting once a week for about 3 hours. Despite the good condition, it was clear that the pages would not take well to handing out for a band to play. Pages were brittle and browning. And the edges flaked off easily.
Tom Pechnik suggested that we scan all the music and store it in digital format. When the initial shock wore off, committee members agreed and we scanned one of each instrument part for all 370+ pieces. While working with the collection, it became quite clear that this was a treasure trove of band music from that golden era. We wanted to get the music out of the boxes and into the light of day where it could be performed.
The next logical step was to make a decision to share this wealth, free of charge, with anyone who has an interest.
Chester Nettrower Collection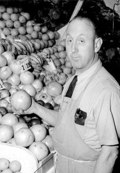 Chester M. Nettrower was born on September 26, 1907 in Enid, Oklahoma to James M. and Mabel E. Nettrower. Shortly after the birth of his sibling, Verna, the family moved to Sedgwick Co., Kansas then to Weiser, Idaho, where he later met and married Marie McKinney.
By the 1940s Chester had moved to Walla Walla, Washington where he worked in a grocery and market for many years, eventually becoming the owner. He was a member of the Central Christian Church and the local Elks Lodge.
Chester was immersed in the musical life of the city where he taught instrument lessons at Uptown Studio and presented annual recitals, sometimes playing duets on clarinet and sax with his students. With a book of over 100 titles of music popular in the 30's and 40's, his dance band was "Chester Nettrower and His Rhythm Kings." He truly was Walla Walla€'s "€œMr. Music."€
Until the mid-1950s the Elks Club sponsored a concert band directed by Chester. The music is stamped with his name. During his tenure the band library grew to a sizeable sheet music collection.
Chester M. Nettrower died from an apparent heart attack at age 61 on November 6, 1969 and was buried from Central Christian Church in Walla Walla. His only listed surviving relative was his sister, Verna.
It is not yet known how this music collection ended up in the Cleveland, Ohio area where 9 big boxes comprising more than 500 titles of band sheet music were donated anonymously to BandMusic PDF Library. Much of the music is posted online to share with band music enthusiasts everywhere.
Gillett / Roche Editions
Bill Roche (L) and Gary Gillett (R) are march aficionados. They spend numerous Sunday afternoons modernizing classic marches and sipping tasty cocktails. Gary is director of the Missoula City Band (Montana) and Bill is the announcer.
At the in-laws'€™ family reunion, Bill was in search of a diversion when he wandered into the Elk County Pennsylvania Historical Museum. As good luck and fortune happened, he stumbled upon the March King of Bennetts Valley. The marches of George Rosenkrans took possession of their better judgment and now they are glad to share their obsession with march enthusiasts everywhere.
Treasure hunters Gillett and Roche have single-handedly (double-handedly?) discovered in the present day the vast wealth of George Rosenkrans' band music from last century. Sure, a few representative pieces of GR's music have been readily available. We even have copies of some of the original printed sets in the library.
The question is: How long has it been since your band performed a George Rosenkrans march? …That's what we thought. The composer was truly a master of writing band music in the early 20th century yet is still largely unknown. Don't take our word for it, try "My Lady Lindy" New Edition (which includes a full score) or 50-some other titles with your band and see for yourself.
In the tradition of international adventurers, Gary and Bill have gone the extra mile, combing the deepest darkest musty archives then creating brand new, modern editions of all of Rosenkrans' available public domain music. Despite a few narrow escapes they are generously making their works available for free download to bands across the globe.
According to Gary, "These George Rosenkrans gems have all been field tested with the Missoula City Band and have our band stamp of approval. From out of the past here is our offering of great Pennsylvania marches via Montana."
(Many of the Gillett/Roche editions still have copyright notices from the early 21st century, but over time the pages are being edited one more time to replace the copyright with Creative Commons License. This process may take a number of years. In the meantime, Library patrons are advised that permission has been graciously granted by these musical modern day descendants of Indiana Jones to use the entire collection free of charge.)
Now online! The complete listing of known George Rosenkrans works is posted at Scott Music Services. Public domain works are all being made available in New Editions; copyrighted works are listed; works in progress are indicated and titles of works still being sought are shown.